InDesign Basics: Imposition and Booklets Types
When designing any editorial product, it's generally easier to work with the pages ordered sequentially. However, before you are ready to print, you will need to convert your file through a process called imposition. It arranges the pages to obtain a faster printing process, and it simplifies bookbinding.
Imposition in InDesign
Imposition is one of the fundamental steps in the prepress printing process that many see as tricky and difficult to manage. But thanks to InDesign, this process has gotten a lot easier. You can now design an entire booklet with the pages in sequential order and then use the "Print Booklet" feature to create the imposition and format your document to be print-ready. This feature offers a range of options for any booklet you may be looking for.
However, depending on the type of final product, you may need to export your file in a specific booklet format. Below are brief descriptions of the different types of booklets to help you choose the best option for your Product Design process.
There are several types of print products, with different sizes and formats, and with that, the imposition may vary. Think about your final product, how many pages it will have, and if you need several booklets or just one. If you have all of these into consideration, the imposition process will not feel overwhelming, and you will end up with a correctly printed booklet.
About the feature
After you finish designing your book or magazine in InDesign, you then go to File>Print Booklet, and on the Booklet Type menu, you can choose between three different options (Helpx Adobe):
2-up Saddle Stitch,
2-up Perfect Bound
and Consecutive.
Keep in mind that you can use Preview to see if the imposition you choose is the correct one for your product. InDesign may need to add blank pages to the finished document if you don't have enough pages for the option chosen.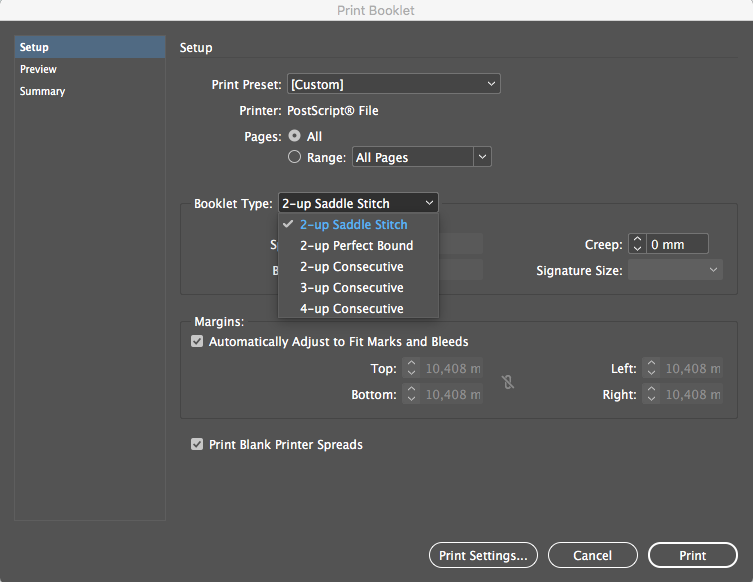 2-up Saddle Stitch
This option creates two-pages, side-by-side printer spreads suitable for printing on both sides, collating, folding, and stapling. Saddle Stitch is the most common and cost-effective option because it gives your booklet a simple binding - the folded sheets are gathered and then bound (by stitch or staple) through the fold line. However, this type of binding cannot hold many pages, and it works best with smaller booklets containing less than 100 pages (i.e., a notebook, manual, small magazine…). The perfect example is the comic booklet we created for Crystalize with their developer comics.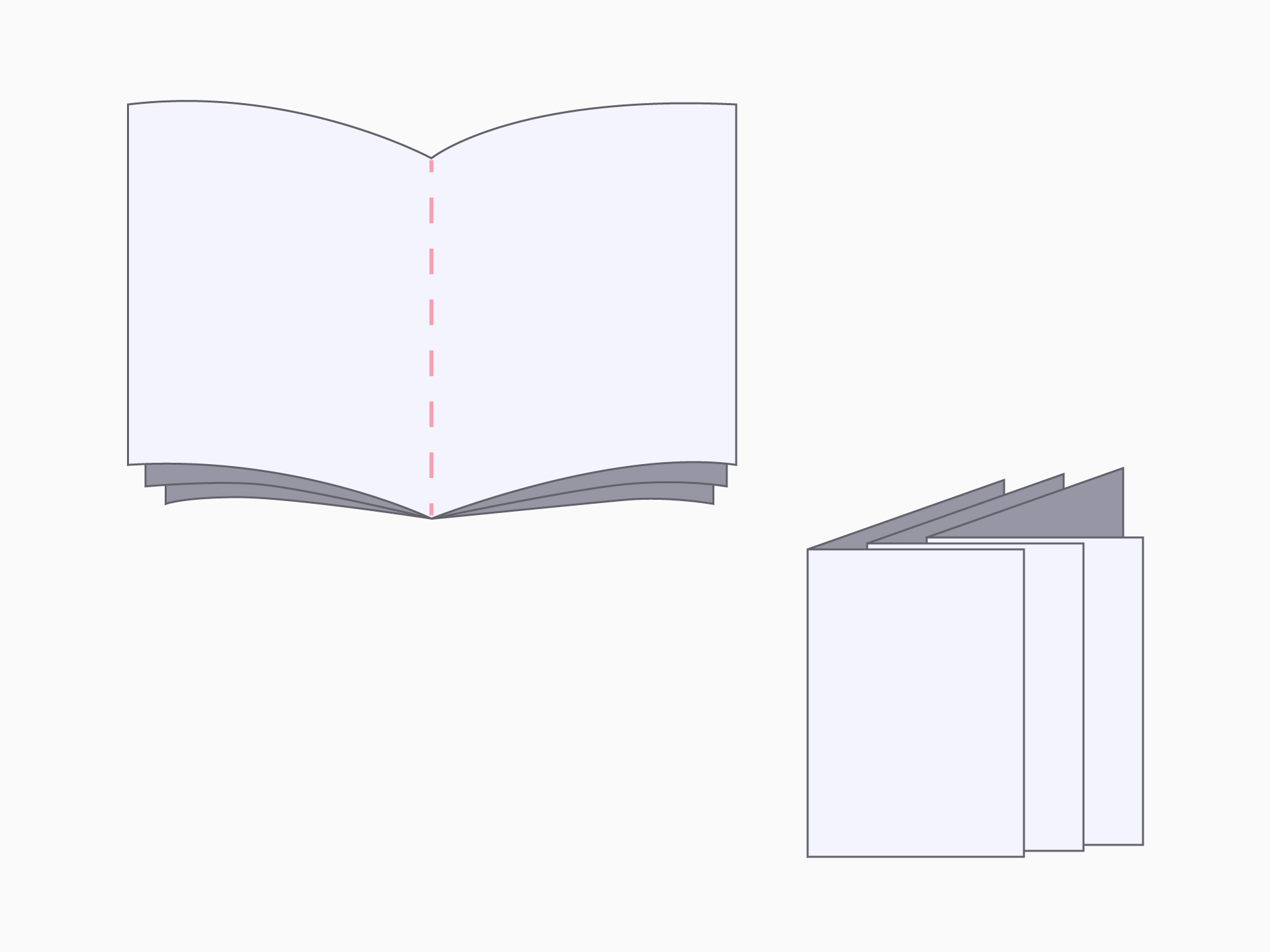 2-up Perfect Bound
This option creates two-page, side-by-side printer spreads that fit within the specified signature size. The perfect bound option divides your file into several booklets, depending on the number of pages. In Signature Style, you can have each booklet with 4, 8, 12, 16, or 32 pages.
This option has the same principle as the 2-up saddle stitch in terms of binding, but instead of just binding one booklet, you are binding several and then collecting them into one final product. The Perfect Bound is used for bigger editorial projects and is widely used in soft- and hard-cover books. Bunad magasinet uses this type of imposition for their magazines.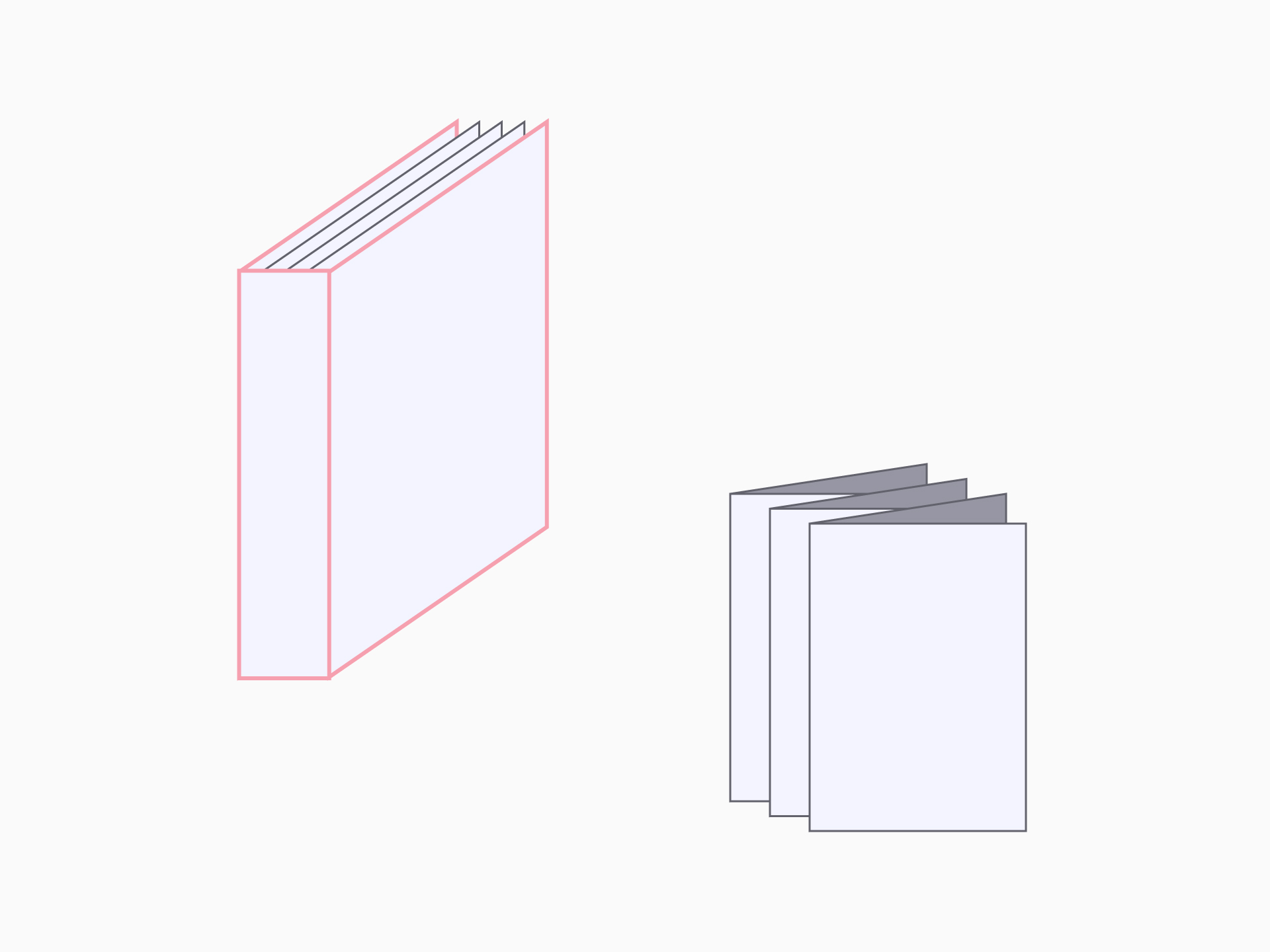 Consecutive
Creates a two-, three-, or four-page spread in which it shows the pages in consecutive order. This is the perfect option to print fold-out booklets or brochures because it gathers the pages to be printed on one page and next to each other.