Using Figma for Digital Workshops
With Covid-19 sticking around much longer than expected, the team has had to get creative when it comes to hosting workshops through a digital platform. Some work well, others definitely do not. But one that I was very pleased with was Figma. Read more to see how it fostered positive team collaboration in a logical, organized, and well-structured manner.
Workshops and Growth
As the Design Lead in Snowball, I am a big fan of workshops. I love fostering safe spaces for team collaboration and development. It's the perfect place to learn new skills or solve new problems, particularly when making better products for our clients.
Workshops also tend to have an incredible interpersonal effect that makes people want to talk. Building a common language, sharing ideas, and finding inspiration among peers is one of the best ways to grow personally and professionally. Ultimately it is the key to building a great team.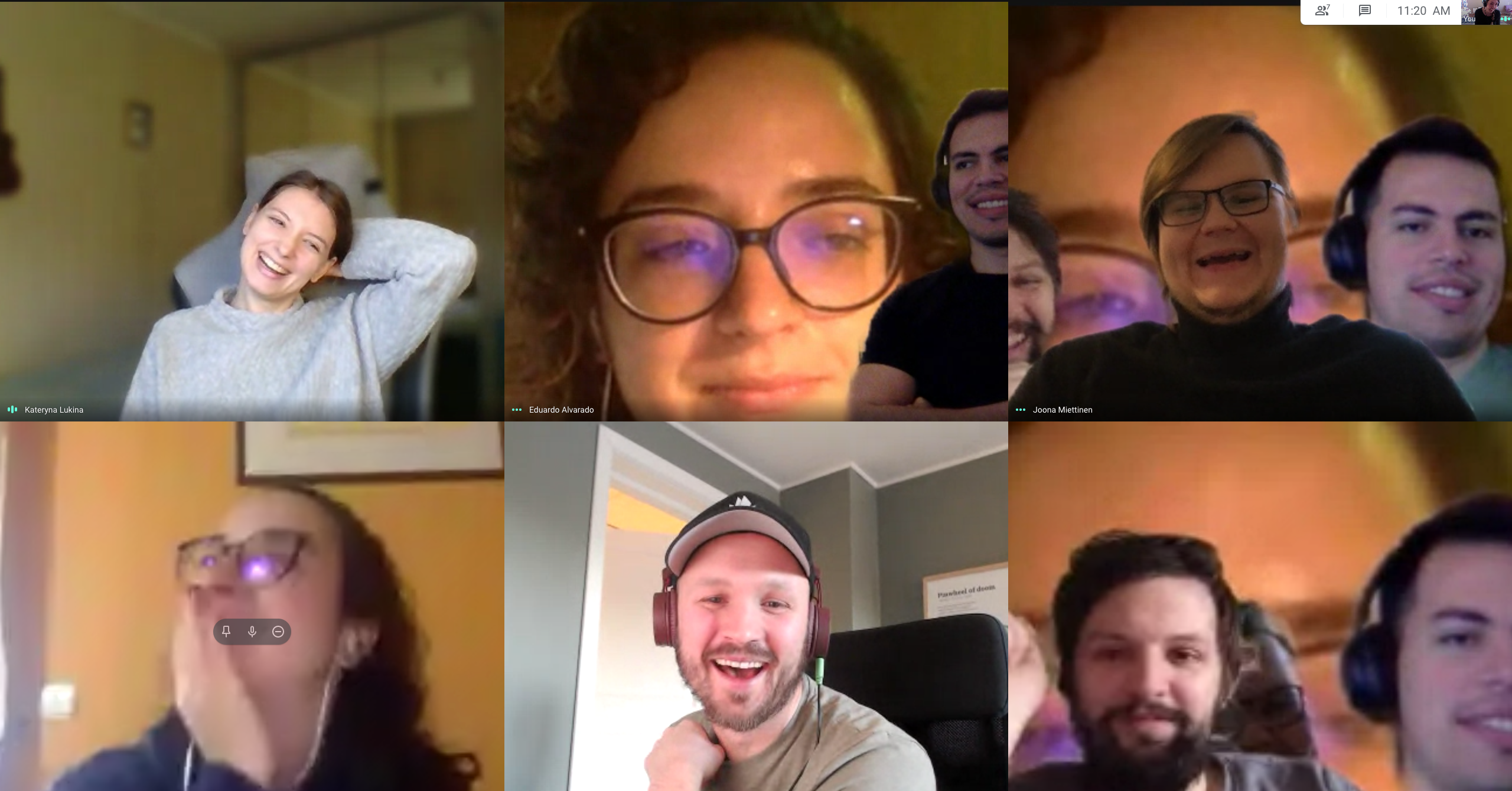 Workshops and Diversity
Workshops are also a great way to collaborate across fields of expertise. With the 'two minds are better than one' logic, Snowball thrives on the diverse knowledge shared by our highly international team. Proud to have 13 nationalities represented in our office, it is important that every voice is given the space to feel respected and heard.
Digital Workshops
Adamantly knowing why I wanted to host a workshop, it was time to figure out how it would be done. I had been toying with a couple of ideas, but it needed to be digital, and that was proving to be a bit challenging.
That was until I landed on Figma - a collaborative graphics editor and prototyping tool. Already using Figma as a design tool for our UI/UX, I knew the team would be comfortable using it. And ultimately, I found it worked perfectly for workshop collaboration.
Structuring the Workshop with Figma
Figma was used to structure the workshop, and we now have a project folder dedicated to this and all future workshops. Within the folder, each workshop is represented as a different file. As for the projects to be discussed in this particular workshop, I prepared the Figma file with an agenda as the top page.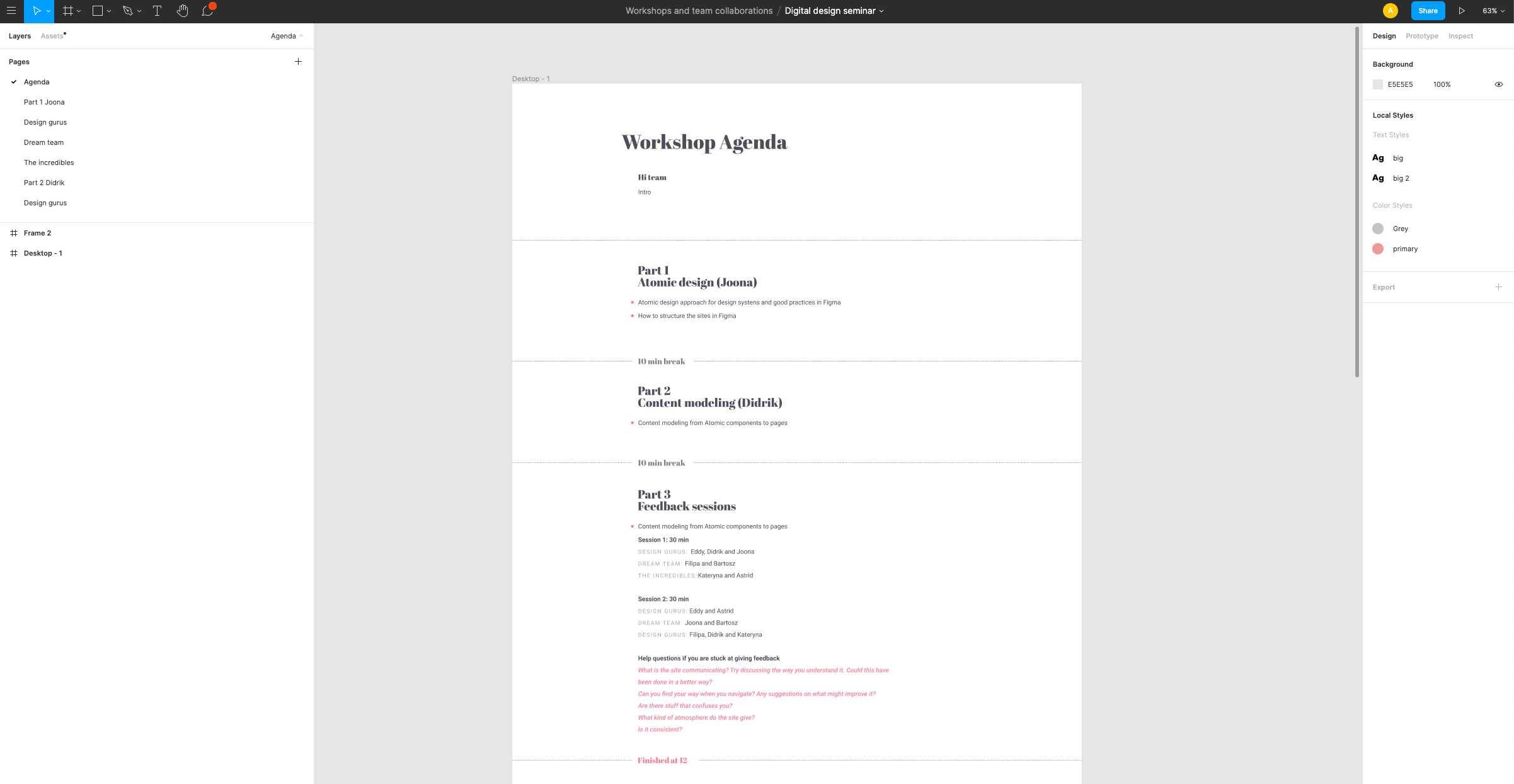 By doing so, everyone could easily access the agenda to know when we would be learning, collaborating, presenting, or taking a break. I named different pages according to different tasks, creating a header on every page that repeated the task and named those who would work on that task. This was to make it easy for people to navigate the file, both during the workshop and afterward, when we would sort and use the ideas.
Workshop Outcomes
On the day of the workshop, I presented all the tasks and paired everyone up in groups of two. They had video conferences separately but simultaneously through Slack and Google Meet. Each team would discuss their assigned problem for 10-15 minutes, using Figma to make notes and add pictures or drawings.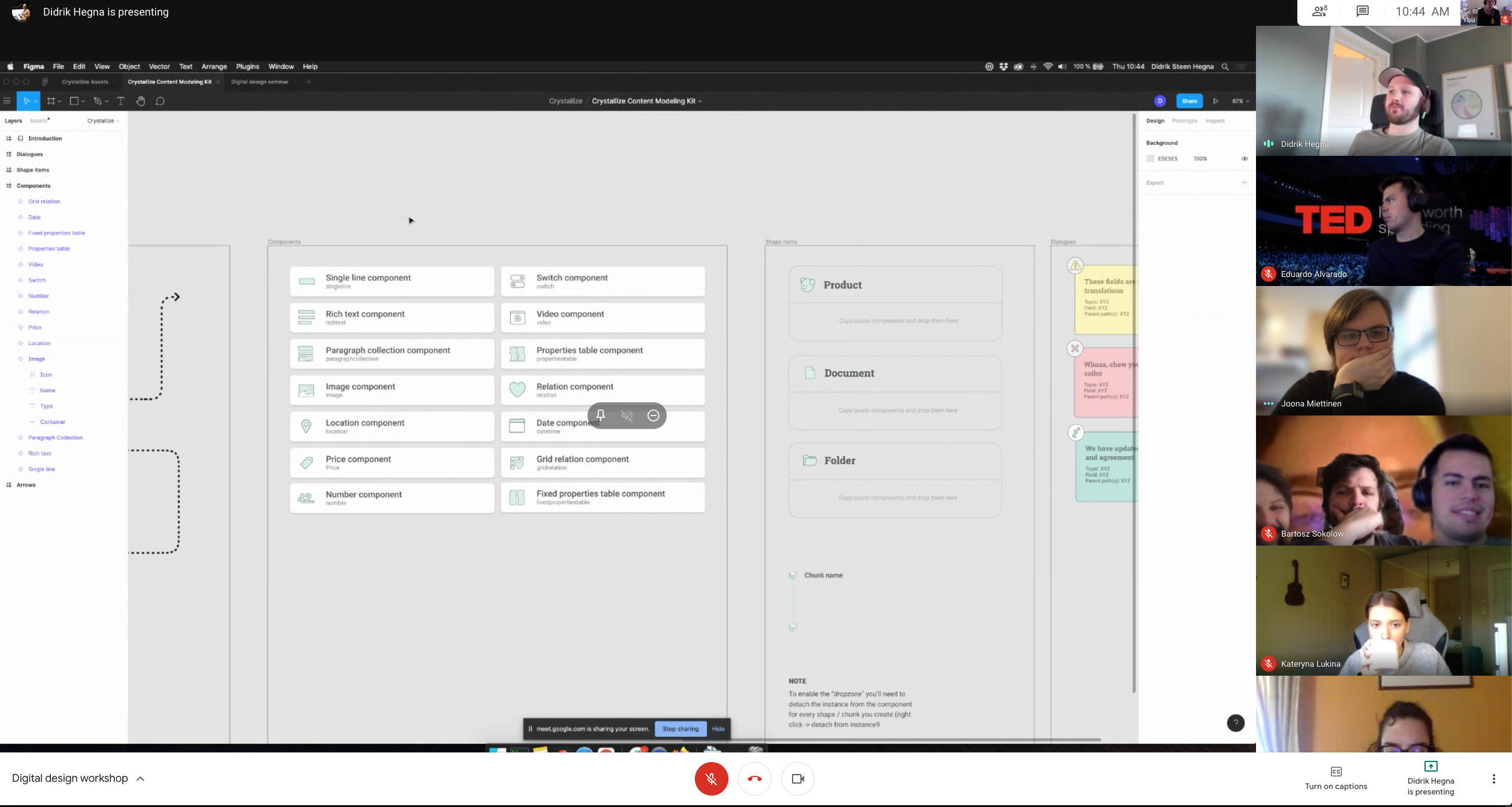 When the time was up, we met back in a shared channel, where each pair could present their ideas. After everyone presented to the group, the pairs traded off problems and had another 10-15 minutes to find a new or improved solution to the one they had just heard. It was a fantastic way to practice brainstorming, solving, presenting, and listening. Ultimately, by building on top of each other's ideas, I wanted to see just how far we could take a problem as a team.

The Benefits of Figma
Some of the key aspects I appreciated the most when using Figma for workshops included: 

Everybody was able to work on the project at the same time.
Teams could use different pages to organize each task.
One group could start a task, and another one could continue the task without having to leave the document they were already in.
We could easily follow the one presenting by pressing the little icon of the person. It made switching between presenters extremely easy in a digital setting.
By the time we finished the workshop, the information we had gathered was already well organized and easily accessible, saving time for anyone who needed to access it later.
Overall, I am pretty pleased with the way Figma allowed us to collaborate so smoothly, and would certainly recommend Figma as a tool for workshops!