Introduction to the new Product Design
Product Design is a rather vague term that fails to portray everything it involves accurately. Although typically associated with the visual/tactile aspects of a product, Product Design refers to the entire process of creating usable products and experiences. It's the generation and development of ideas through a process that leads to new solutions to consumers' needs.
But first, what qualifies as a product?
Until recently, the term "product" was only used concerning something material, usually an object that was meant for mass production. Product Design was exclusively related to the aesthetic of the product and how to make a solution presentable. However, the definition started to encompass not only the physical aspects but the functionalities a product should have—the idea of creating a product not only beautiful but functional gain massive popularity in the industry. And slowly, the term "product" started to have many fields of application, eventually reaching the digital sphere. Today, a product can be almost everything we interact with, visually and physically, from a simple chair to a digital app.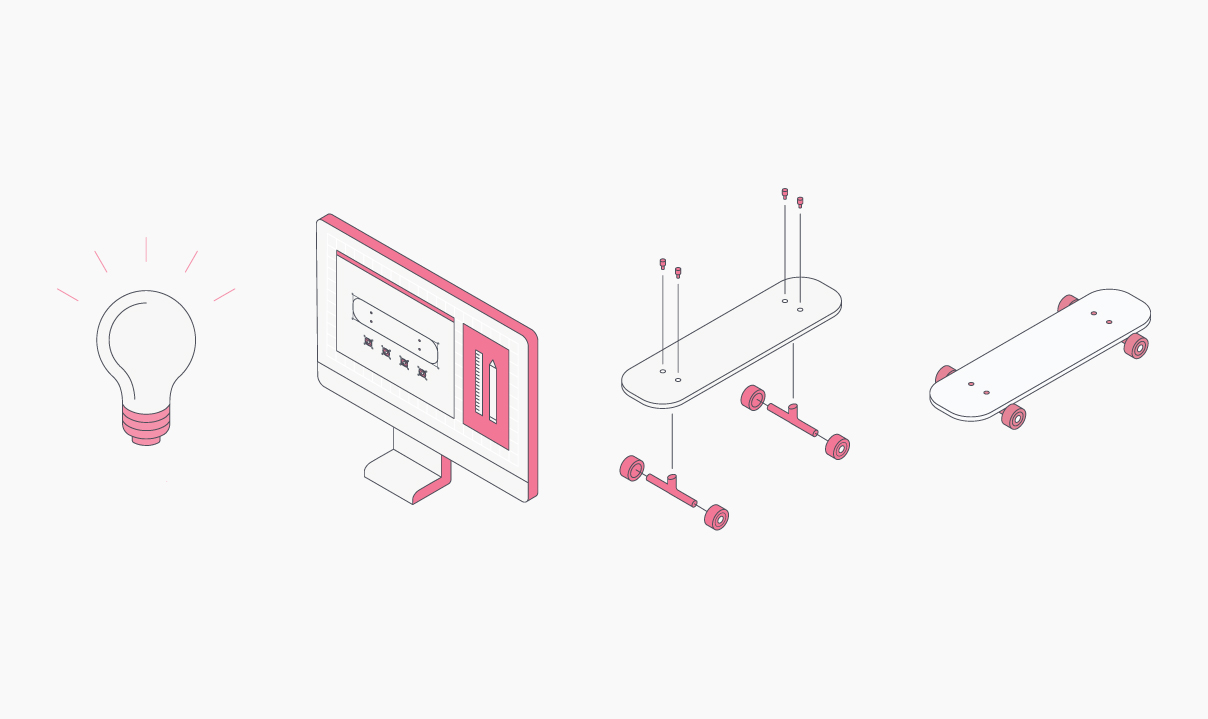 What is Product Design?
Product Design is commonly defined as the holistic approach of building a new product from start to finish using principles of human-centered design. This encompasses everything from doing market research, identifying market opportunities and an apparent problem, and developing a proper informed solution - and everything in between.
Designing a new product involves an analytical process and a problem-solving approach that tries to answer a specific problem that can improve the quality of life on the consumer. Product Design is about visualizing and creating products that can successfully meet the needs of its consumers through problem-solving and design thinking.
Product Desing as a whole process
Product Design is about designing and shipping a solution to a specific problem that was identified and validated. And this process requires a lot of different areas and a ton of unique skill sets. The product design process requires a team composed of researchers, designers, strategists, and developers from various specialties to create and implement design solutions. Product Design is about the intersection of multiple disciplines working towards the same goal.
Brand, Business and Product Design
The harmonization between Product Design and your company is more important now than ever to stand out and succeed in this market. Product Design plays an important role, especially during key stages of product development; its presence is crucial during important decision making.  During the initial design phase, is Product Design that translates the company's vision and goals into a functional product. And in the end, it is responsible for making sure the product delivers on what your brand promises, to reach your target audience effectively, and make your business thrive.
Product Design is adaptive and always evolving
Unfortunately, Product Design has been seen as something purely aesthetic related in the past, and this perception needs to change. Product Design has gone from being at the end of the product development process to the very front and center. 
As I mentioned before, we are just starting to figure out this new concept of Product Design and what is its place within this highly reactive space. The answer to what Product Design truly means is continuously evolving, and it's up to us to be flexible and try to understand it as it goes.