Product Design Process
Creating an effective and clear Product Design Process can have a huge impact on your business. Defining proper techniques and methods will help you better solve any problems while also respond to the client's needs. With this process, you will be able to develop and design the best possible product.
What is product design process?
Product design is complicated and complex. It's important for a business to have a well-structured process with clear arranged steps to plan and integrate. This is achieved by developing a Product Design Process.
A product design process can be defined as a sequence of steps that are followed by a product team to develop a design solution. It's a series of design tasks that follow a product from start to finish. From idea to the final product ready to be commercially available to the target user.
It's impossible to provide a universal design process that fits all products, tangible or intangible. It's about adapting the process to fit your particular needs and goals with a certain project. However, it's possible to describe a series of steps that should be present in some way in every product design process:
Product Vision and Strategy

Product Research and Analysis

Idea Generation

Design Execution

Testing and Validation

Product Launch

Post-Launch Activities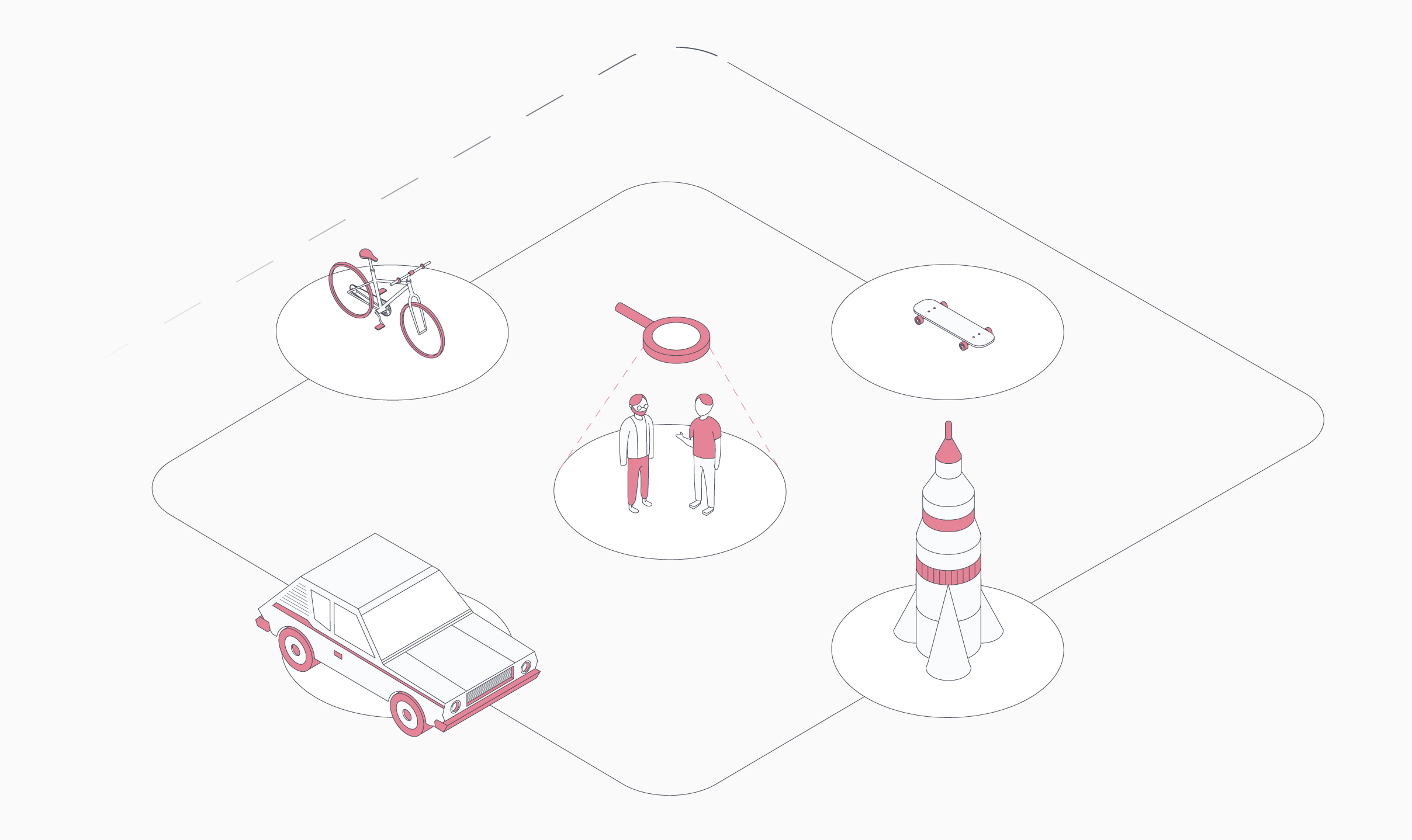 Define Product Vision and Strategy
Before starting your Product Design's journey, there is one very important phase that is actually done before you even think about building the product. Every product design process should begin with having the product team defining a product vision and product strategy. This will not only set a direction but it will guide you and your team to achieve your goals.
During this phase, you need to reflect on your business and why should it exist in the first place. Think about the problem you are trying to solve, and who can benefit from having the product. And finally, really consider what do you want to achieve in the future and what is the ultimate user experience you're aiming for. 
You should spend some resources on defining your vision, mission, and values. It's an essential phase because it sets the foundation and helps support the eventual success of your product. Only after setting all of this, does it make sense to move on to finding a solution to the problem.
Product Research and Analysis
Once the product vision and strategy are defined, the next step is to conduct product research and consequent analysis of said results. The main goal at this stage is to gather evidence that will support all decisions taken in the future. It also ensures that no decision is made under vague or even wrong assumptions. You also should be able to identify the main aspects of the business model and user needs.
Product Research should include user and market research, in which you have a few different techniques to choose from user interviews to online surveys. It's important to conduct insightful user and market research since it enables you to understand what your users actually need. After investigating user needs and the existing marketing, the product team needs to gain clarity from the data collected. From the research, you should be able to draw product insights, identify key user groups and create representative personas.
This will save you a lot of resources because with better the research, the fewer adjustments on your product you will need to make. Good research will make you more confident not only in making product decisions but also in selling your ideas to stakeholders.
Idea Generation
The idea generation phase is when the product team members brainstorm on a range of creative ideas and new concepts to create a product. Ideation is the core of the creative process in Product Design. It's where the concept of the product will be formulated based on the user's needs and business model identified during Product Research.
During this phase, it's critical not only to generate ideas but also to determine which ideas can be successful and bring profit to the company. You will want to concentrate your efforts on ideas that can fulfill your target-users' needs and are a good fit for your business. Eliminate those ideas that don't fulfill these criteria, aren't somehow unsuitable or just don't appear to have high potential. Although design execution is important, the product idea can lead you to success or failure.
Creating a product that fits the company's vision, mission, and values can help your customers have a clear representation of who you are.
Design Execution and Prototyping
After the idea generation phase, the product team should have a clear understanding of what approach to take for the product. During the design phase, the team will begin to create a product that can answer your business's needs and vision already discussed. It's the execution of the ideas generated by the team - the physical representation of a conception.
It's the designer's responsibility to create a design that incorporates both form and function. During this phase, it's important to consider the manufacturing aspects, more specifically, how the product will be made. To ensure that a good user experience is delivered, building a prototype needs to be a part of the preliminary design phase. A prototype is essentially an early sample, a model of an idea, that is build to test the product before building the full solution. 
After creating the prototyping, the design team hands over the design ready to go to production. This handoff consists of detailed drawings and technical specifications. The more detailed information one can deliver, the closer the final product will be to the original concept.
Testing, Product Launch, and Post-Launch
The testing of the prototypes created in the previous phase helps unsure the design idea works as intended and manages to conquer every goal set out. However, sometimes in a chaotic environment or in quick processes, testing is often not taken seriously or even overlooked. And so, it's important to understand that when testing is carefully done, you might find some unexpected insights. Insights that require you to change your product or even your whole strategy. 
After testing your concept, you should revise the design and make any adjustments if necessary. Then retest the prototype again until you have a viable design ready for production. A pilot run of the manufacturing process is then conducted. 
Once everything has been adjusted, you should have a process to bring your product to the final production and launch. At this phase, both production and growth marketing will need to work together and in a coordinated way.
Just because you've managed to officially launch a product doesn't mean the product design process is over. In fact, product design is an ongoing process that continues for as long as a product is in the market. The way your product behaves on the marketplace can sometimes be unpredictable.
Using marketing metric analysis and feedback from stakeholders, you'll be able to gain new insights and improve your product accordingly. Continuous market testing should also be carried out to check the approval of the product in the designed market and target-user.